Welcome to the Fame Fire Company of West Chester
The Fame Fire Company No. 3 is one of three 100% volunteer fire companies that make up the West Chester Fire Department. The WCFD provides fire and rescue services to the residents of the Borough of West Chester, Thornbury Township (Chester County), and portions of West Goshen, Westtown, Birmingham and East Bradford Townships. The West Chester Fire Department covers approximately 26.5 square miles.
Fame Fire Company is the dedicated Ladder/Truck Company and Heavy Rescue Company for the West Chester Fire Department. The other two fire companies in the West Chester Fire Department are First West Chester Fire Company and Good Will Fire Company #2. The specific fire apparatus responding to an emergency may range from a single piece of apparatus from one fire station to many pieces from multiple stations depending on the nature and location of the emergency.
Fame Fire Company is also an integral part of The Chester County Rescue Task Force. Fame is the lead company for swiftwater, trench and structural collapse technical rescue disciplines and operates in a support role in the rope/high-angle and confined space technical rescue disciplines. Check out the Chester County Rescue Task Force Facebook page for additional information.
---
Our firehouse expansion and renovation project is in the home stretch!
Contributions are needed to fund the completion of our project.
Help us raise the final $1,100,000 needed to reach the finish line.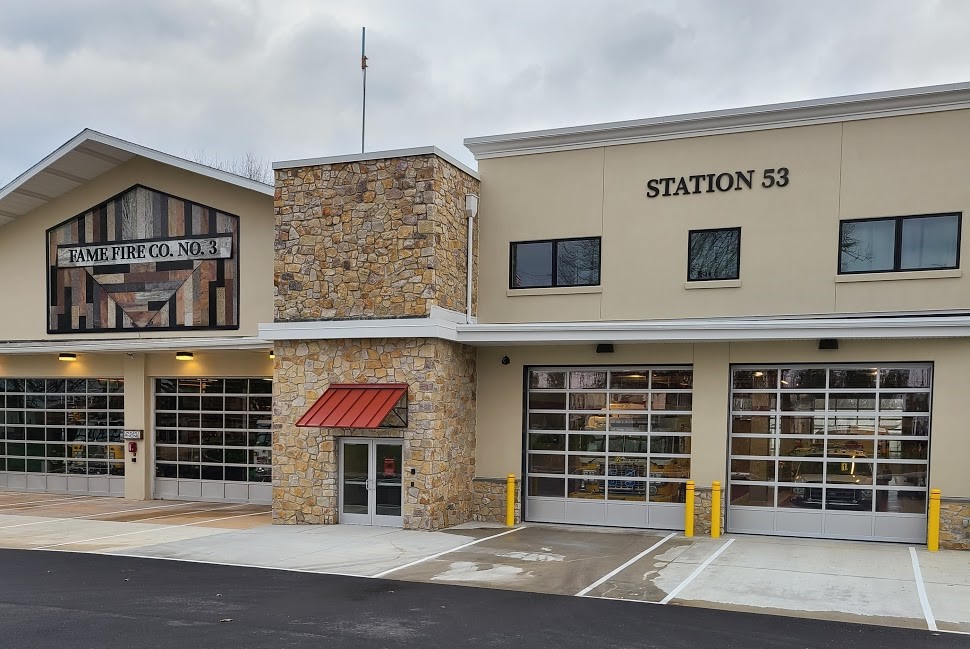 For more information about the capital campaign, click here.

President Mike McCarthy presents FF Max Quinn with his scholarship check.

Scholarships Awarded

1st Class Bill Cummings, January 09

At the January 2022 Company Meeting, three Live-In Program members of the Fame Fire Company were presented with scholarship checks in the amount of $750.00 each. The checks were made payable to West Chester University where each of the recipients attends. The funds assist the members with their tuition costs and were made possible through a joint effort of the West Chester Exchange Club and Fame ... (Full Story & Photos)


Housing and Dedication Ceremony

1st Class Michael McCarthy, September 18

A Housing and Dedication Ceremony was held today at the Fame to celebrate the completion of our new addition, and to house our Ladder, new Engine, and Rescue in their respective bays. The Emcee was our Capital Campaign Chair, Bill Ronayne. WCFD Chaplain Jerry Schwartz gave the blessing of our new building and apparatus. President, Mike McCarthy then dedicated the new building to all of our members ... (Full Story & Photos)



Fame Fire Company 2021


Fame's Golf Outing Returns for 2021

President Michael McCarthy, April 29

After a one year hiatus due to the pandemic, Fame's Golf Outing has returned to Ron Jaworski's Downingtown Country Club on Friday August 20th 2021! Shotgun start is at 9AM. Mark your calendars!

REGISTRATION IS NOW OPEN!

If you, or anyone you know would like to sponsor this great event, please download our attached forms, and follow the information posted.

Hope to see you there! ... (Full Story & Photos)



Fame's new flag pole garden. Consider purchasing a customized brick to show your support. Special thanks to JHL Landscape for enhancing our firehouse's landscape.

Flag Pole Brick Fundraiser

December 05

Are you interested in becoming a part of history and want to show your support to the Fame Fire Company? If so, consider supporting our Buy A Brick Campaign. Custom bricks will be located around our new flag pole garden in the front of the firehouse. Use the attachments for complete ordering details.... (Full Story & Photos)

Click here for our Archived News!
Your feedback is important to us! Feel free to sign the guestbook.