Welcome to the Fame Fire Company of West Chester
The Fame Fire Company No. 3 is one of three 100% volunteer fire companies that make up the West Chester Fire Department. The WCFD provides fire and rescue services to the residents of the Borough of West Chester, Thornbury Township (Chester County), and portions of West Goshen, Westtown, Birmingham and East Bradford Townships. The West Chester Fire Department covers approximately 26.5 square miles.
Fame Fire Company is the dedicated Ladder/Truck Company and Heavy Rescue Company for the West Chester Fire Department. The other two fire companies in the West Chester Fire Department are First West Chester Fire Company and Good Will Fire Company #2. The specific fire apparatus responding to an emergency may range from a single piece of apparatus from one fire station to many pieces from multiple stations depending on the nature and location of the emergency.
Fame Fire Company is also an integral part of The Chester County Rescue Task Force. Fame is the lead company for swiftwater, trench, confined space and structural collapse technical rescue disciplines and operates in a support role in the rope/high-angle technical rescue discipline. Check out the Chester County Rescue Task Force Facebook page for additional information.
---
Our firehouse expansion and renovation project is in the home stretch!
Contributions are needed to fund the completion of our project.
Help us raise the final $500,000 needed to reach the finish line.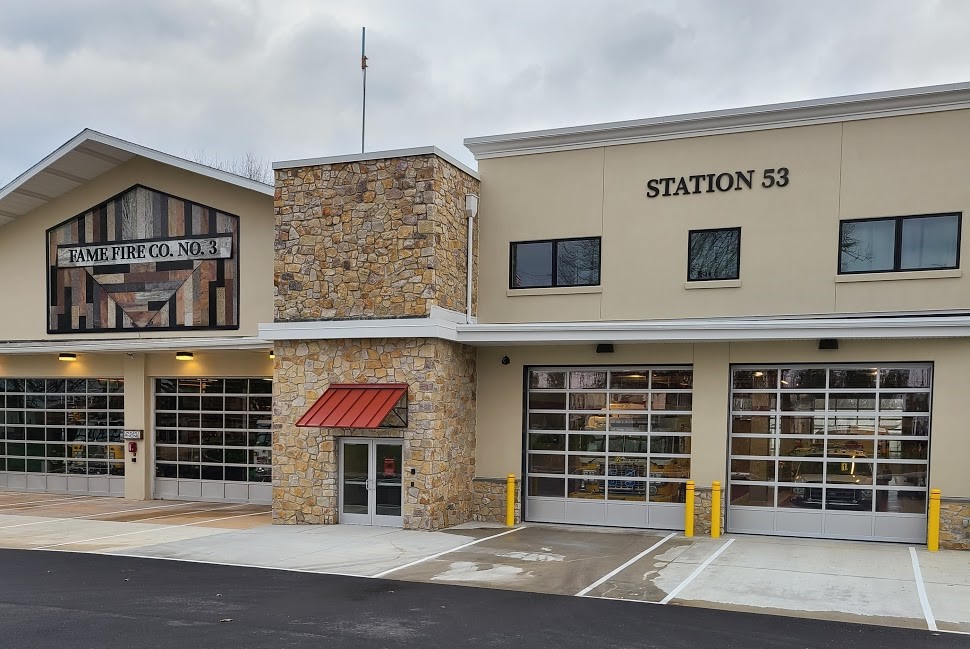 For more information about the capital campaign, click here.
Fame Members Complete WRER Training

Watchdesk, August 10

Last weekend, 11 volunteer firefighters completed their Pennsylvania Fish and Boat Commission Water Rescue and Emergency Response training taught by WhiteCap Water Rescue Training, LLC.

This course included many valuable swiftwater rescue techniques. The course provided the base on which all other PA Fish & Boat Commission courses are built. Using both classroom and practical hands-on training, ... (Full Story & Photos)

Fame's 2023 Fall Food Truck/Vendor Expo

1st Class Michael McCarthy, August 02

SAVE THE DATE!

It's about that time again! Fame is making plans for this Fall's Food Truck, and Vendor Expo to be held Friday, September 15th from 4-8PM at the Fame!

Plenty of delicious food trucks and wonderful vendors will be on hand as well as a few surprises! The Hall of Fame Museum will be open as well!

Stop by the Fame to say hi on your way to or from Happy Hour, or a Friday Night game!

We ... (Full Story & Photos)

Fame Fire Company Annual Golf Outing

1st Class Michael McCarthy, May 04

Let's play some small ball!!!

Fame has set the date and location for our annual Golf Outing! Monday August 28th! Registration, and sponsorship opportunities are now available! Please click on the attachements to register your foursome, or if you would like to become a sponsor for this great event! We hope to see you again this year!... (Full Story & Photos)

Chester County Chiefs Association Golf Outing 2023

1st Class Michael McCarthy, May 02

On Monday May 1st, Fame members attended and sponsored the Annual Chester County Fire Chief's Association Golf Outing which was renamed the "John C. Stout Memorial Golf Outing" in honor of Fame Past President John "Pup" Stout.

John was a long time employee of Belfor who was a premier sponsor of the golf outing for many years, and a big supporter of the Chief's Association.

Pictured are John's ... (Full Story & Photos)



Vehicle into an abandoned building.

Second Rescue Task Force Incident This Week

Watchdesk, April 26

For the second time in the past seven day, Fame rescuers were alerted to respond as part of the Chester County Rescue Task Force (Station 72) to assist the Longwood Fire Company (Station 25) for a vehicle into a building that required emergency shoring in Pennsbury Township.
Station 25 was dispatched for a motor vehicle accident along the 4300 block of S. Creek Road in Pennsbury Township. While there ... (Full Story & Photos)

Click here for our Archived News!
Your feedback is important to us! Feel free to sign the guestbook.