Welcome to the Fame Fire Company of West Chester
The Fame Fire Company No. 3 is one of three 100% volunteer fire companies that make up the West Chester Fire Department. The WCFD provides fire and rescue services to the residents of the Borough of West Chester, Thornbury Township (Chester County), and portions of West Goshen, Westtown, Birmingham and East Bradford Townships. The West Chester Fire Department covers approximately 26.5 square miles.
Fame Fire Company is the dedicated Ladder/Truck Company and Heavy Rescue Company for the West Chester Fire Department. The other two fire companies in the West Chester Fire Department are First West Chester Fire Company and Good Will Fire Company #2. The specific fire apparatus responding to an emergency may range from a single piece of apparatus from one fire station to many pieces from multiple stations depending on the nature and location of the emergency.
Fame Fire Company is also an integral part of The Chester County Rescue Task Force. Fame is the lead company for swiftwater, trench, confined space and structural collapse technical rescue disciplines and operates in a support role in the rope/high-angle technical rescue discipline. Check out the Chester County Rescue Task Force Facebook page for additional information.
---
Our firehouse expansion and renovation project is in the home stretch!
Contributions are needed to fund the completion of our project.
Help us raise the final $1,100,000 needed to reach the finish line.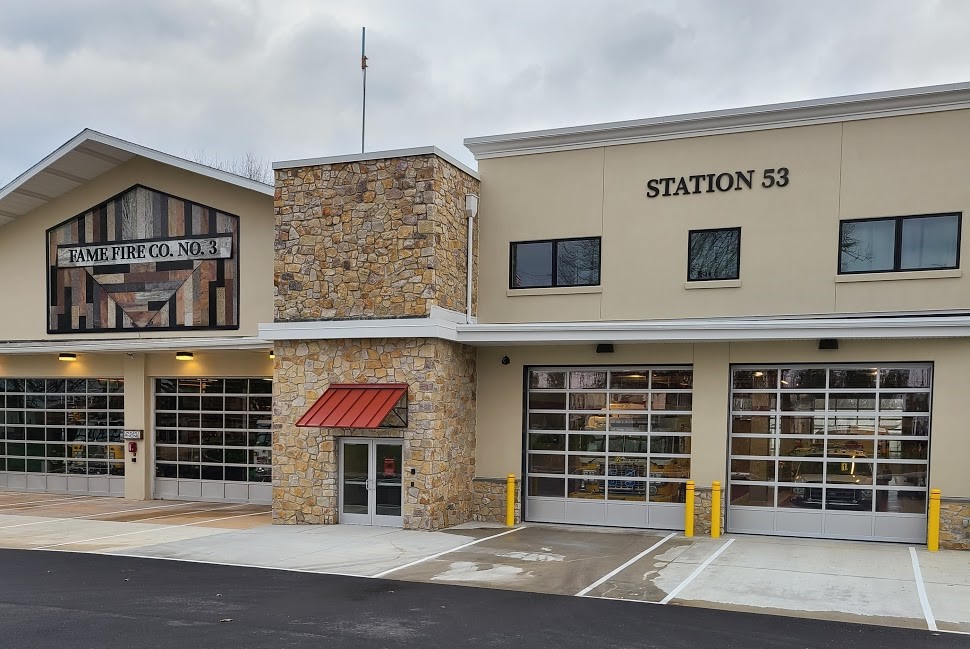 For more information about the capital campaign, click here.
The Ralph Watson-West Chester Exchange Club Scholarship 2022

1st Class Michael McCarthy, August 08

At the August monthly meeting of the Fame Fire Company, Live-In Fireman William Romano was the recipient of an award from the Ralph Watson - West Chester Exchange Club Scholarship. Romano was presented with a check in the amount of $1,000 made payable to West Chester University where Romano is entering his senior year as a Criminal Justice major.

The scholarship fund was developed to assist Fame's ... (Full Story & Photos)


Fame 2022 Golf Outing UPDATE

President Mike McCarthy, July 22

Our annual Golf Outing on Monday August 1st is SOLD OUT for golfers! However, you still have time to sponsor this great annual event for the Fame!

We would like to thank all of our sponsors who have graciously helped the Fame this year:

Chief's Event Sponsor
Schorn Construction

Captain's Challenge Sponsor
Belfor Property Restoration
Brandywine Valley HVAC

Firefighter Sponsor
Daniels Consulting ... (Full Story & Photos)

Fame 2022 Golf Outing

President Mike McCarthy, June 10

Let's play some small ball!!!

Fame has set the date and location for our annual Golf Outing! Monday August 1st! Registration, and sponsorship opportunities are now available! Please click on the attachements to register your foursome, or if you would like to become a sponsor for this great event! We hope to see you again this year! ... (Full Story & Photos)


Rescue 53, representing Chester County USAR and Montgomery County USAR

Fame Participates in Regional US&R Exercise

1st Class Bill Cummings, April 23

Nine members today, using Rescue 53, Utility and Collapse 53, participated in a Regional full scale exercise held at the Philadelphia Fire Academy. They were joined by two members from Lionville Fire Company to form the Chester County Rescue Task Force USAR. Crews operated at a simulated building collapse and parking garage collapse after a hazmat explosion. Crews performed search and rescue tasks ... (Full Story & Photos)

Click here for our Archived News!
Your feedback is important to us! Feel free to sign the guestbook.